GETTING THE MOST OUT OF YOUR PRINT
We appreciate beautiful print so we've tried to make it as easy as possible for you to make your artwork print ready. We recommend you use the following in order to ensure the best possible print.
PREPARING YOUR ARTWORK
Preparing your own artwork can be a little confusing. Below we have compiled a guide which will hopefully help you.
PDF OR JPG
File Type: We accept .PDF or .JPG files.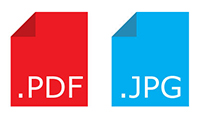 COLOUR
We print in CMYK.  We will automatically convert from Spot colour or RGB etc to CMYK for you.
Please note that RGB screen colours will not reproduce as bright when printed in CMYK.
All Black text should be 100% Black only.
PDF for a Multi Page Booklet
It needs to be 1 pdf with 1 page same size for each page required in correct order.
Please enquire if unsure.
BLEED – 
Business Card shown as example. 
This principle applies to all file sizes. 

Bleed: 3mm  (if design runs to edge)
Safe Zone: 3mm
Resolution: 300dpi
Fonts Outlined or Embedded
PRINT READY
'Print Ready' means exactly that. The artwork you provide us with is a file which we will print directly from. This file will need to be in PDF or JPG format. If you don't have 'print ready' artwork to send us we will happily create it for you. Please contact us with your requirements for quotation.
FOLDS

FILES
If you have artwork which you would like to print from, we will need it sent in PDF or JPG format. You will need to ensure all files are flattened.
Double sided artwork to be supplied in a 2 page PDF – 1 file containing 2 pages. Page 1 will be considered the front and page 2 the reverse. Page 1 will be considered the outside and page 2 the inside on a folded leaflet.
ARTWORK
Must be supplied at the correct size (with bleed and trim marks if needed) E.g. Don't supply a file with a business card set in the middle of an A4 size document unless you actually want it to be printed as an A4 size document. We will print your PDF file at the size you have provided it. Please avoid US sizes, these are often a default size in the Microsoft suite, Etsy etc. They are not standard sizes and we will not be able to proportionately scale your artwork to fit a standard UK 'A' sized page.
SOLID BLACK
Set Black as a background colour at 35% Cyan, 35% Magenta, 35% Yellow and 100% K (Black) This will give good solid coverage. Images should be a resolution of 300dpi at 100%. Before sending your PDF file open it and check all your pages for any errors that may have occurred when converting the original document to PDF.
All Black text should be 100% Black only.
SPOT UV 
Please Note, you will require graphic design software to produce this correctly.
Call for exact specification.